01/10/2019 - Sea Change Being Planned for $1.2B Waterfront Development
The San Diego Business Journal
by Ray Huard
Plans for the $1.2 billion redevelopment of Seaport Village on the downtown San Diego waterfront will be firmed up in 2019. Renamed "Seaport San Diego" by developer Yehudi "Gaf" Gaffen, the project tentatively would include a 480-foot tall waterfront tower, a 192,050 square-foot aquarium built in partnership with Scripps Institution of Oceanography and OdySea, a learning center, an urban beach, hotels, a hostel, a public market, parks, plaza, a blue-tech incubator and a revitalized commercial fishing basin at the historic Tuna Harbor site.
"Nothing like this has been done before in San Diego, but we feel good about the progress thus far and we're looking forward to all that's ahead," Gaffen said. He said that the "core elements" of the project remain, but it continues to evolve. "2019 will be an important year for Seaport," Gaffen said. "We will be validating the current design and begin testing concepts to see what San Diegans prefer to do and see at our waterfront."
Revised plans for the redevelopment are expected to be presented to the public in the spring, with a final design going to the Port District for review by midyear. If the Port District approves the plan, a formal environmental review will begin under the California Environmental Quality Act (CEQA). Plans for Seaport had to be significantly changed in early 2018 when an earthquake fault line was discovered running through the 70-acre site.
The tower that is central to the project was moved from the northwest corner of the site to the southwest to avoid fault line and make room for a 192,050 square-foot aquarium. Additional changes in the hotel mix were made in response to a marketing study.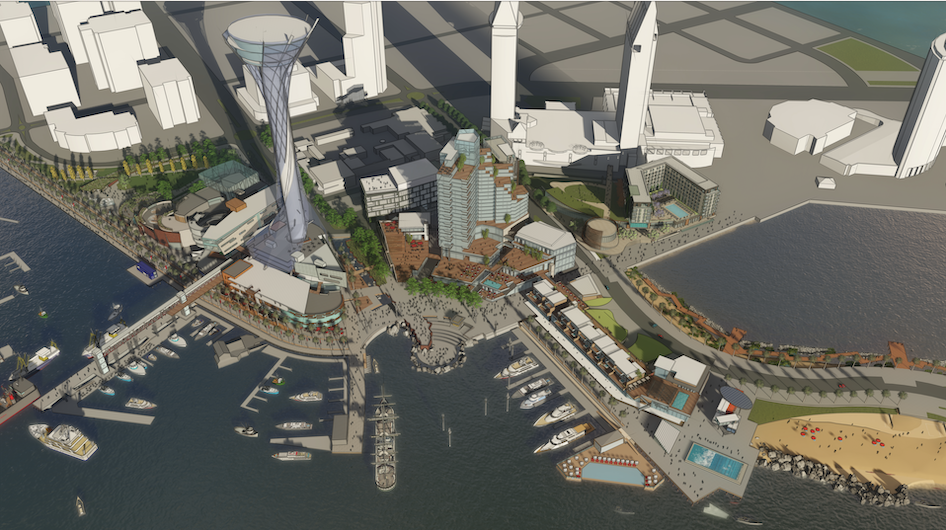 The planned redevelopment of Seaport Village into Seaport San Diego faces several important steps in 2019.
Photo courtesy of Seaport San Diego
Back