11/4/18 – SD Union: Big changes to Seaport Village plan
By Jennifer Van Grove
San Diegans would be forgiven, perhaps even applauded, for avoiding Seaport Village. Aside from the view, the 38 year-old waterfront property's best pitch to consumers involves chain restaurants and trinket shops, seemingly only securing the approbation of cruise ship patrons and out-of-towners. However, a grandiose plan to turn the prime real estate into a world-class destination lauded by locals and foreigners alike is currently underway. Called Seaport San Diego, the $1.6 billion project, backed in part by San Diego's famed Jacobs family, was selected by the Port of San Diego in November 2016 to redevelop 70 acres — 39 land acres and 31 water acres — and is still in the beginning stages.
The mixed-use project calls for 1,933 hotel rooms (spread across six different hotel brands), 276,000 square feet of retail, 150,000 square feet of office, 2,200 parking spaces and 14,000 linear feet of waterside dockage. There's also 28 acres of public open space, not including an additional 10 acres of public-access rooftop decks. A best-case scenario would see development commence in three to four years and a first phase open to the public in 2024. Of course, financing, environmental review and agency approvals would all have to align perfectly so as not to trip up developer 1HWY1's progress.
Tuesday, the Board of Port Commissioners will get an update on where things stand. Commissioners won't be asked to take any action — just review and discuss the current iteration of the plan. That's because the timeline has been shifted back a few months to accommodate the developer, which first had to alter its plans after an active earthquake fault was discovered under the site, and then, more recently, following objections from project neighbor Manchester Grand Hyatt about impediments to its views. Now, though, the site's land plan and accompanying building framework have been established, said Yehudi "Gaf" Gaffen, who runs 1HWY1. And while there have been considerable changes since the Port last weighed in, Seaport San Diego is still intended to put San Diego on the map internationally, he added. "It's an evolution," Gaffen said. "We kept the original (elements of the) project; it's just expanded and improved."
THE NEW PLAN FOR SAN DIEGO'S SEAPORT
The G Street Mole
Starting at what's called the G Street Mole, currently home to the Fish Market restaurant and "kissing sailor" statue, 1HWY1 is now proposing two new developments: A 75,000 square-foot veterans museum that further celebrates San Diego's military roots and a 45,000 square-foot fisherman's building. The projects will sit on opposite sides of the parcel, leaving the Fish Market and kissing sailor statue unaffected. The museum effort is the fruit of ongoing discussions with the Midway Museum; it may morph into a full-fledged partnership around a future veterans park that would encompass part of Navy Pier, the Midway, the mole and the connecting boardwalk. The fisherman's building, meanwhile, is a product of successful negotiations with the San Diego Fishermen's Working Group and would service the adjacent Tuna Harbor, an active commercial fishing basin.
A "blue campus"
In the same vein as the prior iteration, 1HWY1 is proposing a so-called blue campus geared around water and ocean-related research. The campus, taking over the existing Ruocco Park, includes a 180,000 square-foot aquarium and 75,000 square-foot learning center, built and run in partnership with UCSD's Scripps Institution of Oceanography. A 150,000 square-foot blue tech incubator for early stage startups would act as an interface between academia and private industry. And, new to the plan, a 200-room boutique hotel is being floated as an aquarium-themed destination where guests could sleep with the fishes (swimming above or beside hotel rooms).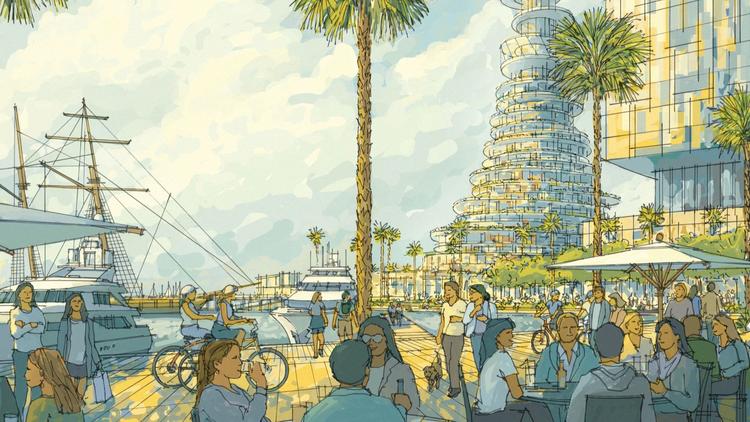 A view of the observation tower and water from the village block side of the Pacific Highway Gateway. (Courtesy/Seaport San Diego)
The tower block
Seaport San Diego's wow factor has always been built around an 80,000 square-foot observation tower stretching 500 feet high into the sky. But now the tower is being imagined as a hospitality center, too. In the reconfigured plan, the base of the tower is a hotel, spanning as many as 22 floors and featuring 380 hotel rooms. Above the hotel, a variety of attractions and event space, including an expansive butterfly exhibit, could fill another six or seven floors. Specific attractions have yet to be determined, but Gaffen described such draws as an outdoor infinity mirror that visitors would stand on to feel suspended between ground and sky.
Pacific Highway Gateway
Located at 1 Pacific Highway, the newly added Pacific Highway Gateway is a water-meets-downtown feature that seeks to turn the discovered earthquake fault into an attraction the public can enjoy. The gateway's trademark is a so-called water cut that is still being engineered. It would, as currently envisioned, extend between 150 feet and 200 feet into land, and both separate and connect (with bridges) the tower block from the village block. The cut is separated into three segments, the most inland of which will double as a kid-friendly water feature, while the outer portion invites the public to step down to the bay. In the middle, cafe tables would line both sides of the gateway, letting restaurant patrons and the broader public enjoy the water-adjacent outdoor space.
The village block
A town within a town, the village block will house three or four different hotel concepts, ranging in price and value, and including a hostel. On the ground floor and second floor of the hotel buildings, which will vary in height from 250 feet tall to 350 feet tall, is a large retail district with restaurants, visitor-serving shops and entertainment venues. The hotel and retail district is similar-but-different from previous plans, primarily tweaked to accommodate the Manchester Grand Hyatt and leave the bulk of that property's views unobstructed.
Multi-purpose event center
Also changed is a now centralized event center of 85,000 square feet directly in front of the Manchester Grand Hyatt. It would connect in a yet-to-be-determined fashion to neighboring hotels, and be suitable for weddings, conferences and indoor concerts.
The thumb
Extending out into the bay, the thumb — named after the shape of the land — will be focused on outdoor experiences and, at its edge, incorporate the urban beach, as originally proposed. The thumb will also have a small hotel, possibly five-star caliber, with 100 rooms and ground floor shops. The plan also calls for a restored wetland area on the Marriott Marquis side of the thumb, along with green space for outdoor workouts.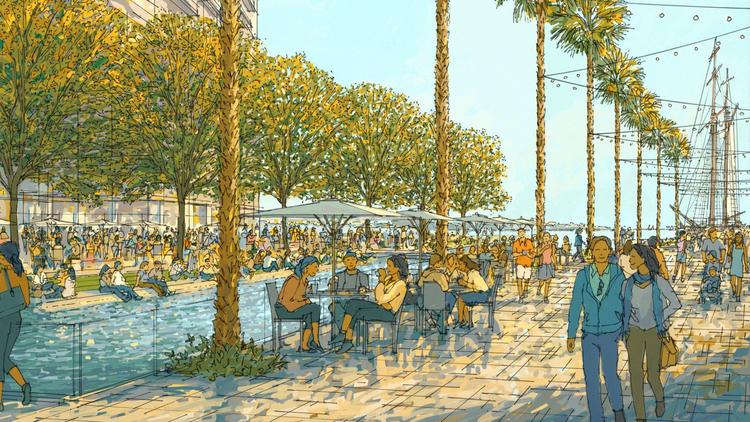 Located at 1 Pacific Highway, Pacific Highway Gateway's trademark is a so-called water cut that would extend between 150 feet and 200 feet into land. (Courtesy/Seaport San Diego)
TOMORROW LAND
Seaport San Diego has all the right ingredients to turn today's kitschy characterization of a seaport into tomorrow's world-renown venue, said Gary London, a real estate analyst who worked on a competing developer's pitch for the property. "What makes a project world class is a great canvas — the dirt; the land under it — coupled with great architecture," he said. "The way I would look at it is this: The location is a substantially superior location than it's ever been, and it will only be more superior as Manchester's (Pacific Gateway) project is completed." Of course, the statements presume that 1HWY1 can build what it says it can, as in a multi-billion-dollar development that not only stands up to public agency scrutiny — the Coastal Commission must weigh in — but also hits just-right market trends in hospitality, retail and science. The project must even, given the lengthy timetable, survive economic cycles that could easily escalate the cost of debt and equity financing, not to mention construction materials.
The company behind Seaport San Diego is a newly formed entity primarily driven by Gaffen and partners Jeff Jacobs and Jeff Essakow, who co-own the Rancho Valencia hotel in Rancho Santa Fe. Gaffen's Gafcon construction management company has a wealth of local building experience. The firm has, for instance, handled complex, multi-billion-dollar development programs for the San Diego Unified School District and UCLA. But this is a project like no other, with even greater implications and expectations. The observation tower alone could subject San Diego to international ridicule if it's not done right. Though in 1HWY1's design corner is famed Danish architect Bjarke Ingels. His firm, Bjarke Ingels Group, has been retained to bring the tower and other concepts to architectural life. "These guys aren't experienced in developing world-renown projects; I think that's a legitimate concern," London said of Gaffen's team. "Does (1HWY1) have the guns to do this? That remains to be seen."
Gaffen would retort that no one in this city, or maybe even the entire state, can manage mammoth public-private partnerships the way his firm can. "Very few firms ever undertake projects of this scale, so you simply won't find a short list of qualified firms with much experience in mixed use; water, coastal sensitive, and seismic concerns; at the billion plus level," said Norm Miller, real estate finance professor at the University of San Diego. "To me, having someone in our backyard who can communicate to all the constituents is essential," he said. "Vision, leadership and project management experience matter as much as finding someone who has frequently worked at this scale, which again is rare." Plus, Gaffen's had no trouble funding pre-development costs — $10 million has been pumped into the project to date. There's also this: Qualcomm co-founder Irwin Jacobs is, as of three months ago, on board as an investor and partner.
Even London, who believes we're on the downside of the peak of the current economic cycle, doesn't see as much risk with the proposed project as with the original Seaport Village. Opened in 1980 on the former San Diego-Coronado ferry landing, Seaport Village was then in the middle of nowhere — no Midway, no hotels, no convention center — and it took a real leap of faith to develop it into a retail project dependent on people's disposable incomes, he said. This project? Well, that's a no-brainer. "The most important thing is that this (area) is an established tourism hub," London said. It certainly helps that port commissioners have, for the most part, liked what they've seen. Port Chairman Rafael Castellanos continues to be encouraged, despite at least one delay and unforeseen obstacles ahead. Already, a project description deadline has been pushed from early October to the end of December.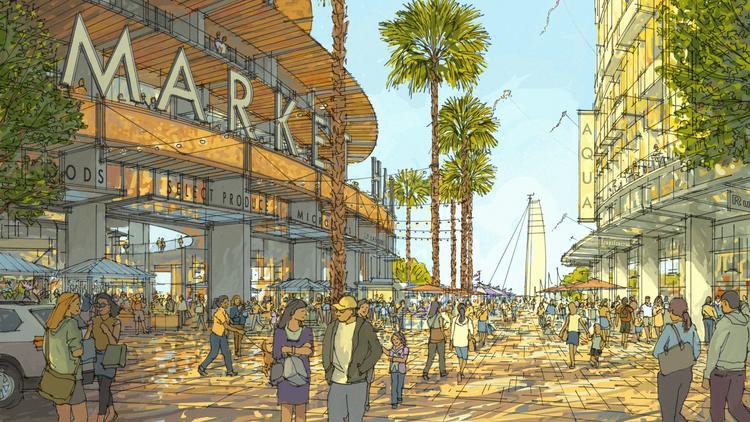 A large retail district with restaurants, visitor-serving shops and entertainment venues is envisioned for the ground floor and second floor of the hotel buildings in the village blocl/ (Courtesy/Seaport San Diego)
"Predicting a groundbreaking on the California coast is a little like looking into a broken crystal ball," he said. "What I can you tell with confidence is, if we continue at this pace, then I think … within 10 years you will see a redefined waterfront in that location that visitors and San Diegans will love and enjoy for decades to come."
Back